Book calls Springfield's Devereux Heights a "rare jewel"
By Cinda Ackerman Klickna
Springfield author Kenneth C. Mitchell in The Little Village that Could – the Untold Story of Devereux Heights, calls this section of north Springfield "a rare jewel of a community." His book showcases people and events of Devereux Heights that he says is "about as ordinary a community as there is. Every one of the families who has ever lived there has remarkable stories to tell. And I love to bring them to light."


The book will no doubt inspire its readers to take a drive to see some of the places Mitchell describes. Devereux Heights comprises 15 streets north of Sangamon Avenue (take Piper Road) and west of Dirksen (take Mayden). The area is named for Henry Devereux, who started a mine in the vicinity in 1904.



Photo courtesy Sangamon Valley Collection | Lincoln Library. Devereux Sunday school class in the 1920s.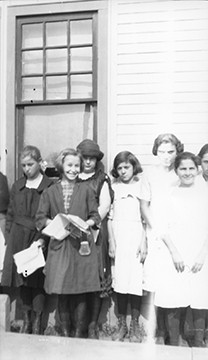 Devereux, born in 1866 in Detroit, came to Springfield and worked at Ridgely National Bank. He was elected mayor in 1901 at a time Springfield was "notorious as a vice-ridden, racist and corrupt city," according to the author. "Devereux was so complicit in that cesspool of corruption that he must be viewed as a contributing factor in the 1908 Race Riot, which occurred a year after he left office."
Devereux wanted an area for miners to live, and by 1913 ads for lots in Devereux Heights often appeared in the newspapers. The word "Heights" was added "to make it sound classy," Mitchell writes.
Mitchell conducted lengthy interviews with people who grew up in the area or their descendants, or still live there, including Bob and Mary Yoggerst and Dominic C. Giacomini, to whom Mitchell dedicates the book. We are introduced to long-time residents, with family names of Bedolli, Yoggerst, Giacomini, Bartlett, Kenal, Galassi, Rodolfi, Golab, Paoni, Blasko and Simko..
Their personal stories add to the understanding of a part of town mainly inhabited by Italian immigrants who worked in one of several coal mines. Biographical sketches, vignettes of people and newspaper accounts, plus over 60 pages of pictures, add to this interesting book.
Mitchell has done extensive research. We learn about Pryor School, which by 1917 was overcrowded. A petition was made by the residents to move their children to Ridgely School or Sandhill School (both denied), and eventually some students were moved to Piper School, which no longer exists.
We learn about the many businesses: Jailhouse Tavern (1930s -present) still operating on Mayden Ave., Fofi's Market (circa 1923-1963), Kauth Grocery and Meat Market (1915-1929), Mayden's Country House Restaurant (1930s-1950s – the house is still standing), The Barn Tavern (1940s-1964), the nearby Roll Inn Tavern and Dancehall (1941-1975). Mitchell includes great historical facts accompanied with stories from people about these establishments.
There was a zinc smelting company, operating for 20 years (1907-1927) and a filling station that pumped gas from the late 1920s to the early 1930s.
The people Mitchell highlights and their stories create a picture of daily life: the houses of 900 square feet designed with two bedrooms on the left, a living room/dining room on the right with a kitchen behind; the large yards with vegetable gardens, fruit trees, cows and chickens; the women, gathering after dinner at various homes, congregating on the benches that stood in front of each house; the men, building bonfires and talking or playing bocce ball or a popular game called rutzela, or heading to the tavern for a beer.
Life was hard. The people were close and supported each other through mine accidents, sicknesses and deaths, as well as during holidays and family celebrations.
Often the residents would hop a ride on the Interurban, the electric railway that ran through the area and connected Springfield to Peoria, Bloomington, Champaign and St. Louis.
Driving to Devereux Heights today helps get the flavor of the area. The Knights of Columbus on West Street hosts an occasional fish fry and rents the hall for events. The sewer pumping station on Mayden, added when the area was annexed to the city in 1963, still operates. Some of the small houses still exist, although many homes have been enlarged or rebuilt. A few of the old benches where women gathered can be spotted. The Jailhouse Tavern, now called Pam's Jailhouse Tavern, still serves up drinks at its large, carved wooden bar. Down a narrow street is a pond, more than likely what was called Holliday's Pond, a former gathering and fishing spot. Rolling hills with large trees border part of the Devereux area.
There is much in this book, with its stories, personal accounts and pictures. Mitchell has written 15 books on local history and in this book, he has provided a fascinating look into an area of Springfield that may be "ordinary" but also steeped in history.
Cinda Ackerman Klickna, who grew up in Springfield, doesn't remember ever visiting Devereux Heights before, but was inspired by the book to go take a drive through Devereux.